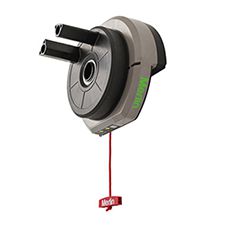 Power Point Not Included*
Suitable for doors up to 15m2 best door types are residential rolling garage doors. The ideal product for powering sheds are carport roller doors.
Standard installation included.
Premium Automatic Safety Reverse
With its automatic safety function your garage door will stop and reverse automatically if obstructed going down or stop going up.
Automatic Force Sensing
Equipped with automatic force sensing, with each operation the garage door opener monitors and adjusts the force needed to open your garage door.
Manual Release
In case of power failure you can simply activate the manual release to open your garage door.
General
IP34 housing
24V DC motor with thermal overload protection
Input voltage: 240V AC
Minimum side room 40mm
Rated door area up to 15m²
Max door weight: up to 100kg
Drum rotations: 5.5
Max peak pulling force: 500 N
433.30, 434.54, 433.92 MHz AM radio with Security+2.0 encrypted rolling code technology
Up to 64 memory registers
Courtesy light: LED
Noise rating 1M: 51DB
Soft start/stop function
Door Specs
Maximum lifting under spring tension = 15kgs
Suitable for steel spring balanced doors
Door Opening and Closing Times
Door opening time: 14 seconds (regular), 18 seconds (slow)
Door closing time: 14 seconds (regular), 18 seconds (slow)
Based on a 2.3m high door
Door Height
Door height: 5.5m, 3.0m, 2.3m
Door width: 2.7m, 5.0m, 5.5m
Single Dwelling
WeatherDrive MR555MYQ Download